Article content
The annual West Lorne Optimist Club Show and Shine Auto Show made a grand return to Miller Park on July 3, organized by committee members Nikki Ross, Marsha Kalita, Tom Kalita, Julie Palazzo-Kalita, and Krista Bodkin.
Article content
Over 300 people were served at a "cowboy breakfast" organized by the Optimist Club of West Lorne, and food was available throughout the day by various food trucks, including the food truck operated by the Optimists.
The service club was also selling pies made by Joan Neil.
The park's splash pad was open for use, along with the new inclusive and accessible playground.
Roughly 20 vendors were on site, selling everything from die-cast model cars to fishing lures.
A 50/50 draw in support of the West Lorne Optimist Club saw the winner take home $3,830.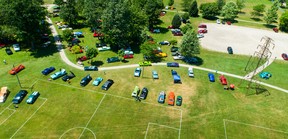 There were also various raffle prizes available ­– 60 in total – that included items such as car memorabilia, car care items and even gift cards from local businesses.
The car show was the 25th – the last one was held in 2019 – with 289 vehicles registered.
"I think this is the busiest that this [car show] has been in years, which is really good to see," one observer said.
It's thought that some cars that were shown were not registered. But even without that increase, the show's official tally beat the 2019 registration numbers, which amounted to 278.
According to Krista Bodkin, one of the organizing committee members for the 25th annual Show & Shine Auto Show, the proceeds of the car show will be going "toward accessible walkways in Miller Park and other programs the West Lorne Optimist Club is currently running, such as teen cooking, kids' crafts, and others."