Article content
It's been billed as "the world's largest travelling car show," and it's meant to inspire the wonderment for automobiles that you may have felt playing with die-cast cars in your childhood.
Article content
The Hot Wheels Legends Tour arrives in Windsor this Saturday.
"This event is set to feature everything from American muscle and custom trucks, to imports and coveted marques not offered in the United States, and limited-edition collectables exclusive to the Hot Wheels Legends Tour," organizers proclaimed in a release.
For the past five years, toy-making company Mattel has been internationally organizing car shows under the Hot Wheels brand with a competitive aspect: Vehicles entered in the shows have a chance to be immortalized in die-cast Hot Wheels toy form.
This Saturday marks the first time the tour will have a stop in Windsor.
"When expanding the tour schedule for 2022, we felt it was important to include a stop that would showcase the best of Windsor's custom car culture — especially since the city is known for being the automotive capital of Canada," said Ted Wu, Mattel's global head of vehicle design.
Article content
"We're excited to see which Canadian fan car will move on in the global competition," Wu added.
Representatives of the Hot Wheels design team and a panel of judges will be in attendance to select the top submissions among the hundreds in the show.
Judging criteria includes "authenticity," "creativity," and "garage spirit."
Windsor's event follows the Hot Wheels Legends tour stop earlier this month in Detroit, where a custom-built 1931 Dodge Rat Rod was chosen as a finalist.
The ultimate winner of the 2020 edition of the tour was a white 1970 Pontiac Firebird Trans Am out of California, heavily customized by Sacramento resident Riley Stair in his parent's side yard.
The gathering place this Saturday will be the parking lot of the Walmart Supercentre in the east end (7100 Tecumseh Rd. East). Event hours are 8 a.m. to noon.
Attendance is free. For more information, and to register as an entrant, visit www.hotwheels.com/legends.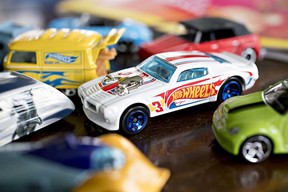 Ouellette Car Cruise returns to downtown Windsor in August

Photos: Ouellette Car Cruise 2021

Belle River Sunsplash Festival returns this weekend