Denny Hamlin and Kyle Busch made the wrong kind of history on Sunday at Pocono, shockingly getting disqualified from their top-two finishes because of a piece of tape discovered when officials removed the car wrap during postrace inspection. 
According to one Cup Series driver, NASCAR officials didn't remove the wrap and accidentally stumble onto the added tape. They knew exactly where to go when the two cars pulled into the garage following the race because someone had tipped them off.  
Denny Hamlin and Kyle Busch disqualified
Denny Hamlin and Kyle Busch looked like winning cars early on Sunday at Pocono, starting from the front row. The two Joe Gibbs Racing cars confirmed at the race's conclusion that they were the best, crossing the finish line in the same order they started. 
That 1-2-start-to-finish story sounded too good to be true. Turns out, it was. Just hours after the race, NASCAR made its historic announcement that the two JGR cars had been disqualified after officials removed the car's wrap and discovered tape, which was found in the same position on both cars.
It was the first time a Cup Series winner had been disqualified since 1960.       
Corey LaJoie details what happened to Denny Hamlin and Kyle Busch
Since Sunday, it hasn't been clear whether or not NASCAR inspection officials removed the entire wrap or just specific areas of wrap on the car. Corey LaJoie provided some interesting clarification this week on the Stacking Pennies podcast and suggested someone had tipped off officials that Hamlin and Busch were skirting the rules.  
"I heard that it went, as soon as the 18 and 11 parked in pit road, there was an official that went right to the wrap and pulled it right off, like, 'What's this?'" Lajoie said.
"Yeah, so they knew it was there. Somehow, either somebody — the garage polices itself," Skip Flores said. 
"Somebody rolled on them," LaJoie suggested.
"Everybody looks at everybody's cars. Everybody takes pictures of them," Flores said. "If you could see it, it's something that they knew was going on somewhere." 
"The Toyotas, the way their ID kit of their nose is made, it goes up to about, six or seven inches, halfway up the front fender well," the driver described, using a diecast of his Darlington Throwback car to show the location. "They just put that helicopter tape in this body line here, to soften the body line, add some side to it, put some front DF (downforce) in it.
"Whatever it was, I can assure you it wasn't worse or they wouldn't have went through the process of going there. They owned it, in the PC way of saying, they're going to adjust their assembly process, like, 'We might have forgot a piece of tape.' No. It was on there on purpose."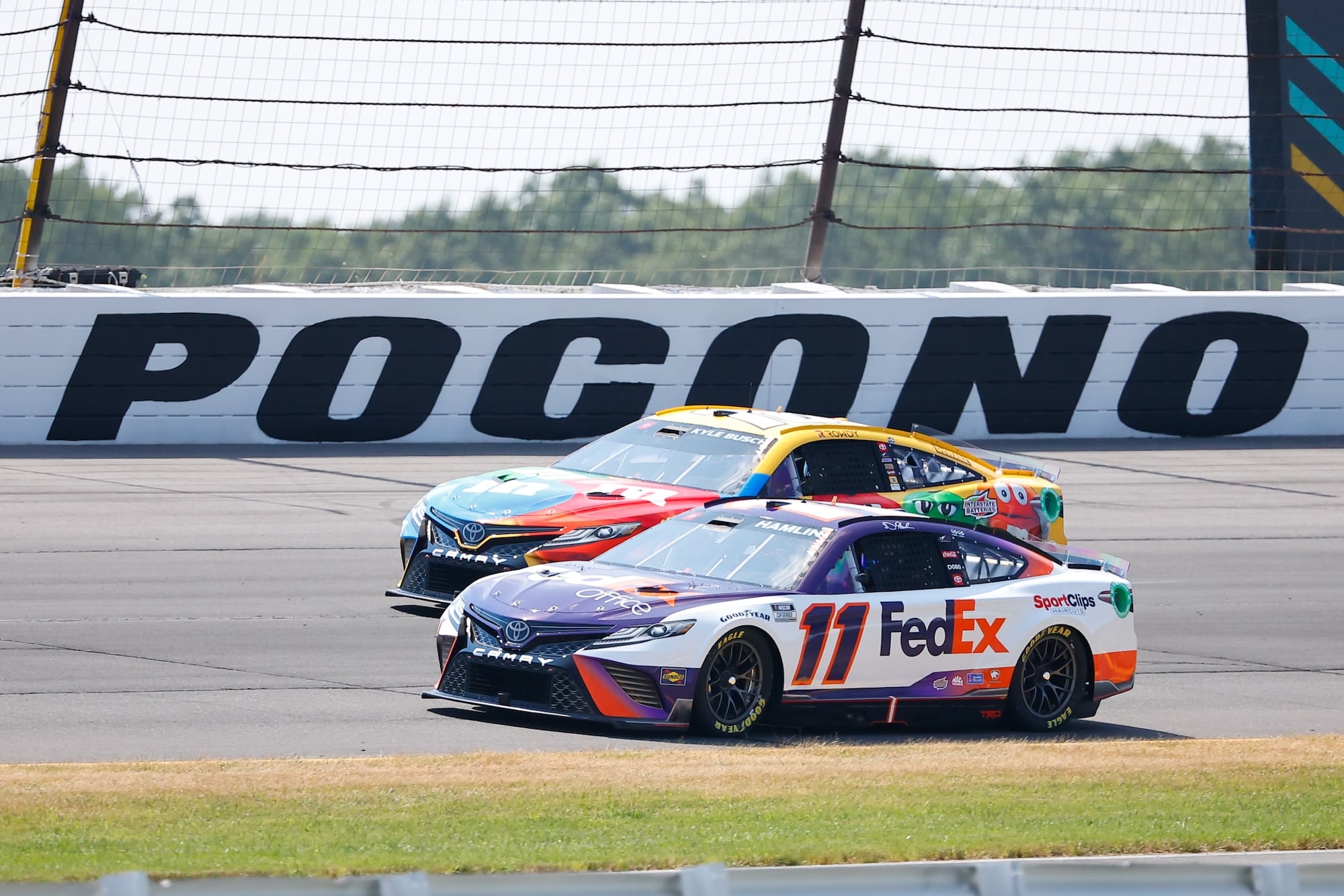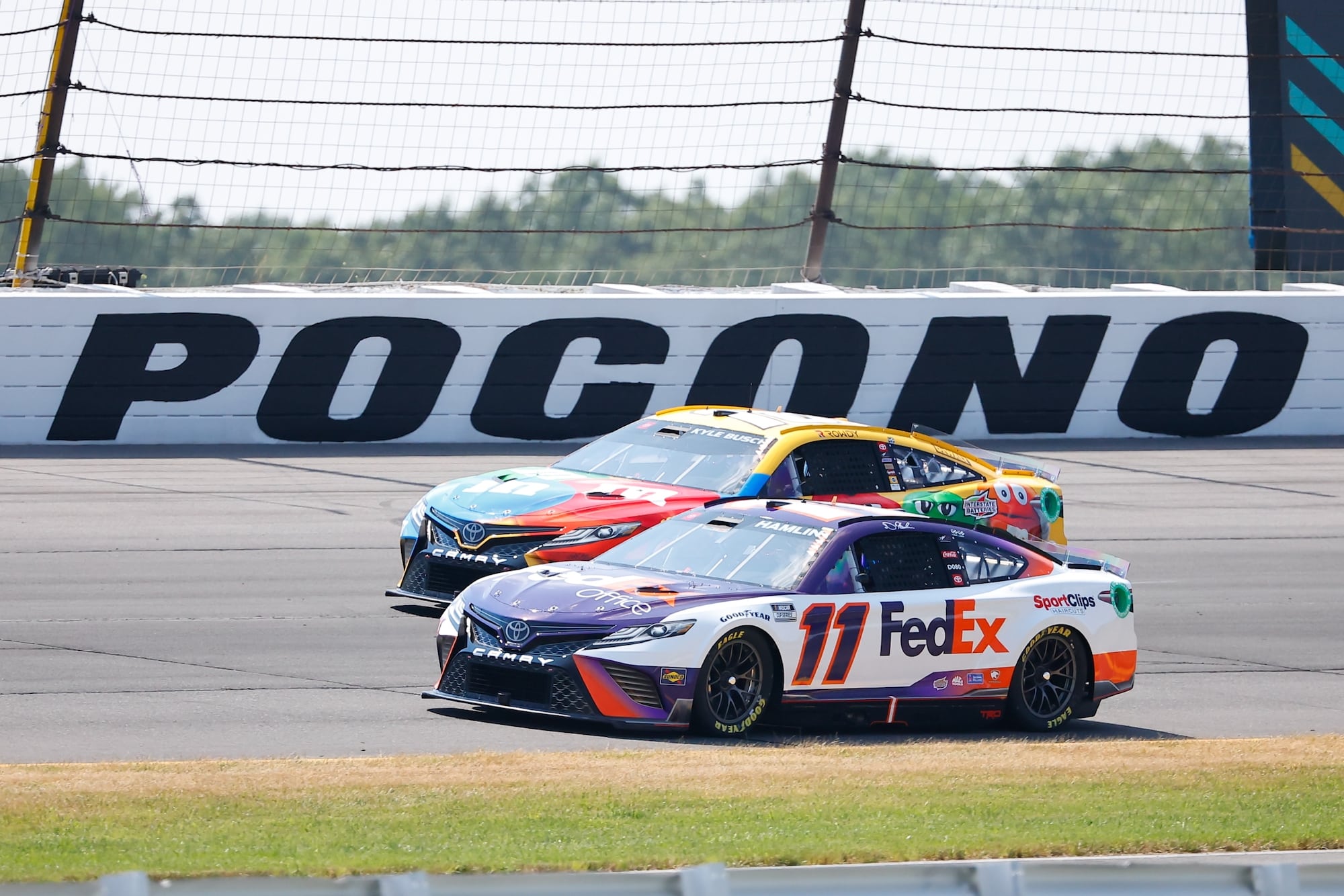 What makes LaJoie's comments even more intriguing is they came on his podcast, which is hosted on NASCAR's official website. The video and the Spire Motorsports driver's specific remarks on what happened to Hamlin and Busch in the postrace were edited and tweeted from NASCAR's official Twitter account. 
NASCAR, spotlighting a 57-second clip from LaJoie's podcast that lasted for an hour and eight minutes, is effectively saying, "If you want to know what happened for us to make such a dramatic decision, listen to this." 
Since Sunday, most have focused on what was found and where it was found. Not many have asked why or how. And now they don't have to. All they have to do is listen to LaJoie's podcast. NASCAR is. 
Like Sportscasting on Facebook. Follow us on Twitter @sportscasting19 and subscribe to our YouTube channel.
RELATED: Denny Hamlin Responds to Disqualification on Social Media, Including 1 Surprising Comment That Mysteriously Disappears